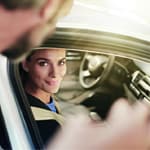 Once you've narrowed down the list of potential vehicles, it's time to take a closer look. Before buying a used car, make sure you check for damage and any mechanical issues that may need to be repaired. Find out if the car has been in an accident or had any major work done on it. Look for signs of rust, dents, and other structural damage. Have the car inspected by a trusted mechanic to ensure there are no hidden problems that could cost you money in the long run.
Research the vehicle's history report to find out how many owners it has had if any recalls have been issued, and if the vehicle has been in any major accidents. You can also check out reviews of the car you're interested in to get a better idea of its performance, reliability, and safety features.
Take the car for a test drive to ensure it feels right and that all systems are working properly. Pay attention to the brakes, transmission, suspension, and other car parts while driving. Make sure to ask questions about any problems that arise and consider getting a second opinion if something seems off.