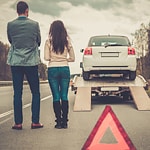 Our team at Truck Town wants you to be prepared for the unexpected regardless of if you're driving around Bremerton, WA, or taking extended road trips. A roadside emergency kit is a beneficial item to have in the event that you become stranded.
You can purchase a pre-made emergency roadside kit or make one yourself. If you decide to make one, then you can tailor it throughout the year so that you have items that are suitable for the weather. For example, blankets, gloves, and hand warmers are good winter items to include in your kit, and extra water bottles and cooling towels are beneficial to have during the summer.
Roadside flares and flashlights are recommended items to add to an emergency roadside kit because they help make your presence known to other drivers. Be sure to include batteries, and pack water bottles and nonperishable food items. A plastic storage box can be used for your items, and many drivers keep their roadside emergency kits in the truck for the cargo area.