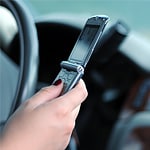 At Truck Town, we're committed to helping Bremerton, WA locals stay safe. Not only do we offer quality, high-performing vehicles with cutting-edge safety features, but we also share strategies for avoiding the most common causes of automotive collisions. Following are two tips for reducing distracted driving.
Fuel up and Beautify at Home
Although eating while driving might seem like a great way to multi-task, it's virtually impossible to do without taking one or more of your hands off the wheel. Give your body the fuel it needs before turning your auto on and pulling off. Start your day early enough to have breakfast at home or at least pull over and enjoy your meal before continuing your commute. You should also avoid styling your hair and applying makeup while traveling.
Take Advantage of Smart Phone Integration Technologies
Don't overlook the technology features in your vehicle that enable hands-free connectivity. Take full advantage of mobile phone integration platforms. This way, you can use voice commands to cue up driving directions, access your favorite mobile apps, answer urgent calls, and more.