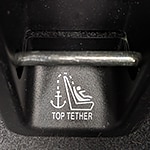 As a parent in Bremerton, WA, choosing the proper child restraint seat is one of the most pivotal decisions one will make. With so many choices for parents, including the brand as well as the type of seat, selecting the right car seat can be overwhelming. However, by taking the time to do your research and understand the various seat designs available, you can make an informed decision that will keep your child safe.
Three chief choices for child restraints are available today: rear-facing, forward-facing, and booster seats. Car seats that face the rear seat are for infants and toddlers and are the safest type of car seat. Car seats that face the windshield are for those who have outgrown rear-facing seats. Booster seats are designed for those who have outgrown forward-facing seats but are not yet big enough to solely utilize a seat belt.
When selecting a car seat, you should also think about the limitations regarding the height and weight of each product.