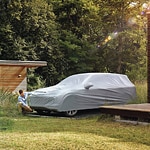 If you don't have a garage to park your vehicle, or when you have an expensive car that you want to put into storage, car covers are an excellent layer of protection for your vehicle. When parking outside, car covers protect your vehicle from the elements, and from any dust or debris that might hit your car from the road.
Car covers help to keep your vehicle free from dust, protecting the interior of your vehicle at the same time. If you have a vehicle that you want to keep in pristine condition, car covers make it possible for the finish to look nearly new at all times.
When you want to keep your vehicle safe and retain the value of your vehicle, car covers are one of the solutions. Learn more about the benefits of car covers when you visit our service center at Truck Town in Bremerton, WA for your next vehicle maintenance.