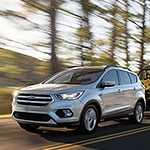 If you are worried about fuel efficiency in Bremerton, the Ford Escape offers three engines and four powertrains to help you conserve fuel. When buying from Truck Town, you can choose from the following powertrains:
1.5 liter EcoBoost Engine
2.0 liter EcoBoost Engine
Hybrid IVCT Atkinson Engine
Plug-in IVCT Atkinson Engine
All of the powertrains except the plug-in hybrid feature All-Wheel Drive with AWD disconnect. With AWD disconnect, your vehicle will automatically detect when you do not need AWD, and you will be able to save energy by reducing the overall drag of the vehicle.
Slippery and Deep Snow/Sand drive modes allow you to use extra energy to tackle the most severe driving conditions. Sport mode allows you to get a little more fun out of quicker shifting of the gears, while Eco mode allows you to maintain the most efficient driving mode. If you do not have a preference, Normal mode offers balance and comfort enjoyed by daily drivers.