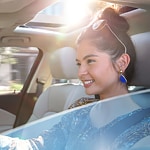 The first major milestone in every teenager's life is becoming old enough to drive. Getting them their first car is a momentous occasion that should not be taken lightly. Let us here at Truck Town help you find the perfect first car for your teenager.
Safety needs to be your top priority as new drivers tend to have trouble on the road. Prioritize safety features and search crash test scores. Stay away from small sports cars that can tempt your kid into driving recklessly around Bremerton, WA. You should also avoid anything that is large enough to hold a big group of friends.
The other things you need to prioritize are reliability and fuel efficiency. Teenagers do not have a lot of money, so it is best to find something that can last until they are finished with college. You also do not want them spending their savings just to fill up the gas tank.