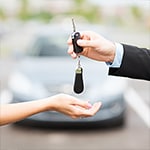 When it comes to used car tips, one of the best ways to start shopping for a pre-owned vehicle is to look at the top cars of previous years. You can check safety ratings, factory defects, reviews, and more just by researching online. Once you know the right vehicle, it's easy to schedule a test drive online. If you're in Bremerton, WA, you can stop by Truck Town for a test drive, which is an important step before purchasing a used vehicle.
Used cars should be purchased with value in mind. You can negotiate your monthly payment, but you also want to check the warranty and vehicle history report before any purchase. Pre-owned vehicles may have higher mileage, so it's important to know about the previous owner.
If you have a trade-in, you'll want to know its exact worth so you can get the most value and apply it to your new purchase. You can check trade-in values online before shopping for a used car and add that to your overall budget so you have the most options available.