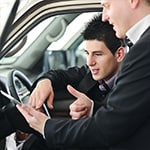 One of the most important things you can do when you purchase a new vehicle in Bremerton, WA is to take it for a test drive. By following these tips, you can ensure that you drive away from Truck Town with the vehicle that best suits your needs.
Consider what type of car works best for your lifestyle. Are you looking for a daily driver, a vehicle for a new driver, an elegant luxury vehicle, or a vehicle that can handle tough terrain in an off-road adventure? Do your research before going into the dealership to make sure that the vehicle fits you the best.
Make a list before you go into the dealership with the qualities that matter to you in a vehicle. Check all the tech and fuel to make sure it's compatible with your needs.
Choose a day for test driving and nothing else. Make an appointment with the dealership so you have time to test drive the vehicle.