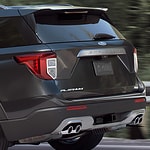 The Ford Explorer midsize SUV is a three-row vehicle with an excellent design. The spacious interior seats up to seven people. It has a long list of interior design features, including a touchscreen eight inches across to control all the infotainment, connectivity for both Apple and Android smartphones, four USB ports for charging and data transfer, its own Wi-Fi network, onboard satellite radio, and plenty more.
The Ford Explorer has three different zones for climate control to ensure that each row has its own comfort level. You can upgrade the sound system, the climate, the seating, the touchscreen, and most of the other features as well with options and by moving up trim levels.
Take a look at all of the configurations to get the best Ford Explorer design for your needs and budget.