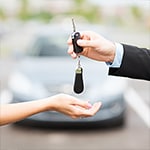 Our staff At Truck Town in Bremerton, WA is always available to offer tips and suggestions for going through the process of purchasing a used vehicle. If you are ready to purchase a used vehicle, we have a few top suggestions to help you get through the purchasing process as fast as possible.
Consider looking at vehicle history reports soon as you come in for a test drive. When you look at a vehicle history report, you will see varying information. For example, it is important to check out how many people have owned the vehicle previously and also if the vehicle was in any major car accidents. You should also check and see what kind of maintenance schedule was followed for the vehicle.
Once you are fully informed about the vehicles that you were interested in, take a test drive with a friend. Taking someone along will help you notice all of the noises, scuffs, or scratches that you may otherwise overlook because of excitement. After your test drive, take a few minutes or even longer to decide on the purchase of your vehicle.