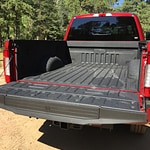 Here at Truck Town our team consistently recommends Ford Super Duty to anyone requiring an extreme workhorse for extreme jobs: industrial applications, construction, commercial hauling/towing and major plowing. How do we know Ford Super Duty is so powerful and durable? Here's the proof.
Put to the Test
When building Ford Super Duty, Ford subjects these trucks to extreme tests mimicking real world stresses in heavy-duty work situations. Each truck undergoes:
Tests with broken and worn parts
Gravel, dust, water, mud and brine baths
Four-post frame twists
Powertrain tests replicating an uphill climb at 6-percent grade over 500 miles
Exposure to temperatures ranging from -20 to 120 degrees Fahrenheit
On all of these tests, Ford Super Duty outperformed previous generations and the competition.
The Strength of Steel and Aluminum
Ford Super Duty is strong enough to overcome anything it encounters on Bremerton streets. Its fully boxed, high-strength steel frame and high-strength, military-grade, aluminum-alloy body make it extremely rigid, lightweight, aerodynamic and efficient. The same combination makes Ford Super Duty exceptionally crashworthy, ding-, dent- and rust-resistant.