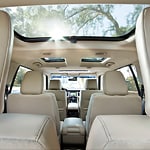 Having a comfortable vehicle should be a priority because it makes driving more enjoyable. Comfort should be a requirement if you spend a lot of time on the road. Here at Truck Town, we understand the value of the Ford Flex, especially as it relates to comfort features.

Ground Clearance

Getting in and out of a large vehicle can be challenging at times. Ford made it easy to enter and exit the Flex by building it with a 5.9 ground clearance. This SUV seats seven passengers, which is why having an ideal ground clearance is important.

Ergonomic Instruments and Controls

Ergonomics aims to reduce physical discomfort. The Ford Flex has achieved this goal when it comes to accessing instruments and controls. These elements in the Flex are specifically designed for easy access and optimal comfort. Whether you are adjusting the temperature or finding a new song on the radio, you can do so without discomfort because of the careful positioning.