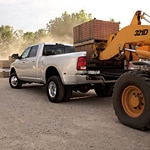 This article will review the durability features of Ram 3500.
If one is looking around for a truck and he or she is much in need of a truck, one should check the durable features Ram 3500 has. Ram 3500 was made with 50,000 psi steel that has a unique cross-member design which incorporates strength to support the system. This great feature enables the truck when one requires moving tons of building stones at any building site or moving with goods around the country. The Ram 3500 comes with a five-year/60,000-mile warranty and a diesel power train warranty of five-year/100,000 miles. This is a protection to the truck investment and gives a more significant concern for the truck drivers.
The durability features mentioned above with the excellent company terms and conditions make the Ram 3500 choice for most buyers.